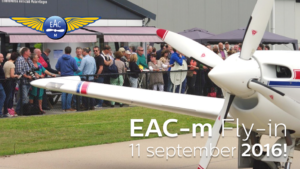 Update 10/9/2016 21:00:
Beste vliegers,
We hebben zojuist besloten dat de fly-in morgen door kan gaan!!
Maar wel met een kleine maar…. De huidige TAF voor Eindhoven die zojuist uit is gekomen geeft namelijk gedurende een groot deel van de dag SCT012 bewolking met een PROB30 op SCT008.
Zoals u in de pilotbriefing heeft kunnen lezen is de normaal voorgeschreven arrival hoogte 1500ft en dit zou dus een probleem zijn, echter hebben we de verkeersleiding bereid gevonden om arrivals tot een minimale wolken hoogte van 1000ft te accepteren.
Check dus voor uw vertrek de METAR van Eindhoven (EHEH) en is die 1000ft or above dan bent u welkom op ons veld.
Met vriendelijke groet,
Het Fly-in team
*******************************************************************************
Dear Aviators,
Join us 11 september 2016 on the 4th annual EAC-m Fly-in on our homebase EHEH!
For the 4th time running we will be organizing our annual Fly-in, during this day we invite you to visit our homebase Eindhoven Airport (EHEH) by plane.
Just as in previous editions the Fly-in is held on the same day as our annual family event so there will be plenty to do, see and eat and of course lot's of EAC-m members and their families to welcome you.
As you might know we are located on Eindhoven Airport, the second largest airport in the Netherlands and also home of the Royal Netherlands Air Force (RNAF). Usually it's almost impossible to visit our field but during the Fly-in we have the ability to welcome a limited group pilots and their planes, you can be one of them!
Because of the high traffic density at our field we are forced by the RNAF to work with 'slot-times', this means you can apply for an arrival slot between 9:30 and 13:30.
Please do note that departure is only possible at own discretion starting from 13:45 until 17:00 latest.
The EHEH landing fee for the day is 15 euro, this is including a free lunch for you and your passengers.
If you would like to join us on September 11th select a free slot from the list and send an email with below details to fly-in@eacm.nl
When everything is received we will confirm your slot and you will receive a detailed pilot briefing a couple weeks before the event.
– Preferred slot time.
– Aircraft registration & model.
– Airfield of departure.
– Full name's of PIC and PAX (PAX can be added / changed at a later stage).
– Date of birth and nationality of all persons onboard.
– Mobile number of PIC.
Unfortunately as we are located on a busy airport there are some limitations
– Visiting aircraft are required to carry a 8.33 kHz radio.
– Only fixed wing aircraft able to fly 90kt are allowed.
We are looking forward meeting you all
EAC-m members & Fly-in team
Ps: AVGAS & MOGAS is available